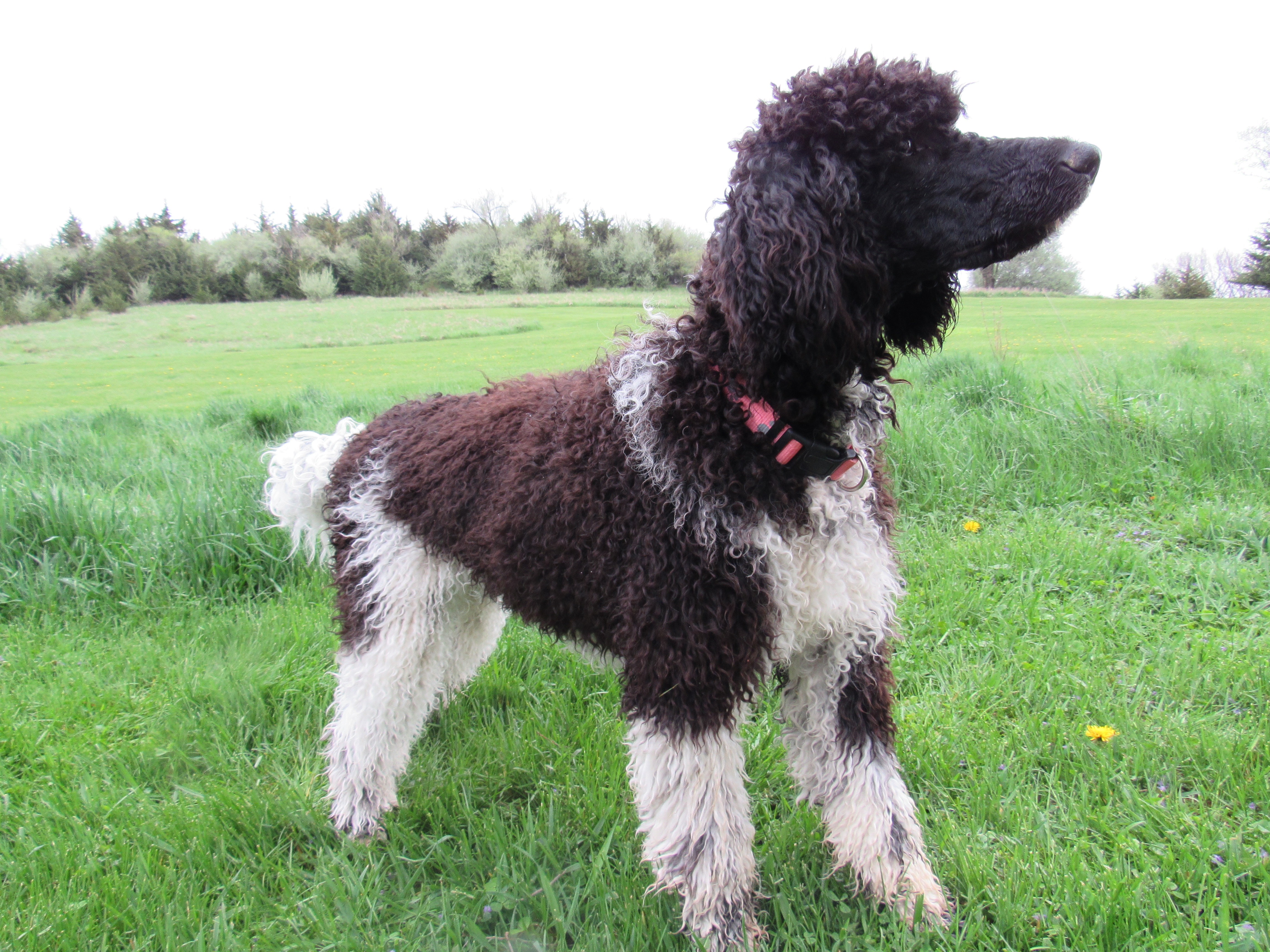 Hope for Correcting Hip Dysplasia
Does your dog live with hip dysplasia? Do you feel like there's very little you can do? If so, you wouldn't be alone. However, there's a lot more we can do for dogs with hip dysplasia to support their health! After fifteen years of clinical experience, involving over two thousand cases with hip dysplasia Dr. Belfield found that, "When given supplements, they [dogs] are much less likely to develop hip dysplasia, spinal myelopathy, ruptured discs, viral diseases, and skin problems. They live healthier and longer."
Take a recent story about Tosser, a male standard poodle who had been dealing with hip dysplasia. Tosser's mom, Emma, was told Tosser had level 3 hips. This particular form of malnutrition to the hips is measured on a scale of 0-5, so 3 was smack in the middle. The owner had become suspect something was wrong when she noticed he started to run funny. His front legs would move normally, but he hopped with his back legs and they appeared somewhat stiff. Chasing ball with other dogs was when the hopping symptom was most noticeable. That was when Tosser would run slower than other dogs even though he was bigger than them and he also never leaped into the air for the ball like the other dogs did. 
Emma read everything she could find on the subject of hip dysplasia. It didn't take long to learn that there are differing schools of thought. Although one school of thought accepts hip dysplasia as a genetic issue, there is not conclusive research providing evidence for this. Therefore, Emma's Vet Tech suggested she read Wendell Belfield, DVM's book on pet nutrition which provides a different school of thought on the subject.
In Belfield's book he states that "the reigning myth – which unfortunately still clouds much of veterinary thinking to this day, is that hip dysplasia is an inherited condition…hip dysplasia is a condition related to deficient vitamin C and resultant poor collagen." Belfield went on to say, "keep in mind there is little to no nutrition information taught in veterinary school, so they aren't going to look at it from that angle. If your dog is not adequately nourished, or he comes from malnourished parent lines, he is more likely to develop bone and joint problems."
This perspective had a lot of evidence behind it and it was enough for Emma to try out because she already knew was from unhealthy, malnourished parents. She always referred to him as her "rescue dog" even though he wasn't from a shelter. She consulted with her holistic practitioner who suggested there may be an issue with Tosser's ability to use vitamin C. The reasoning behind this? Tosser was already on a supplement program; yet, he developed symptoms of hip dysplasia anyway. Emma learned that some of the deworm chemicals and two of the canine vaccines, in susceptible animals, can interfere with their ability to manufacture or properly absorb vitamin C.
The next step was to give Tosser a vitamin C homeopathic remedy in the hope of re-establishing his body's natural ability to use the vitamin. She was shocked and elated with the results. Within 2 weeks he was showing marked improvement in his ability to move his back legs. No more hopping. She increased his vitamin C supplementation and a few days later he was running almost normal on all four legs and doing much better in keeping up with the other dogs. She also noticed he was more assertive when playing with the other dogs and would even steal the ball from them. This was new. Another week after that, Tosser leapt into the air after a ball for the first time.
Emma's Vet says that his hips have made a significant improvement and if he had to make a guess, they have improved from level 3 to level 1. Emma said she continues to see improvement almost daily, not just in his hips but also how he lays in his kennel, how fast he runs after the other dogs, and in his stamina. Tosser's legs are not the only noticeable change.
Emma also pointed out that before this program, Tosser would never bark and would rarely engage. Everyone just assumed he was shy. Now he not only barks, but he also nudges Emma to pet him. Tosser's repeat ear infections have nearly ceased and his appetite has improved. It has been a win- win all around and Emma reports being so grateful to God for putting Belfield's book in her hands!